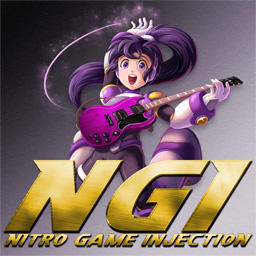 Nitro Game Injection
Sundays at 7:00 PM Eastern
Nitro Game Injection is a live webcast dedicated to the promotion and preservation of video game music. The show focuses on several key areas of game music, including original soundtracks, remixes, covers, chiptunes, doujin music, game-inspired originals, as well as the communities that encompass these aspects.

See Suraida's Art Challenges Here!
Host bios
Kyle "KyleJCrb" Crouse - Creator / Host / Producer

KyleJCrb is a gamer and videogame music enthusiast from the dry desert of the American Southwest. He is lead host of and the mind behind Nitro Game Injection, so if you hate the show, blame him. He began brainstorming NGI back in March 2003, and as of 2009 has hosted more than 100 episodes.
Larry "Liontamer" Oji - Co-Host

Larry Oji, better known as Liontamer, is currently the Head Submissions Evaluator at OverClocked ReMix. With his great sense of humor, good knowledge of video game music and disturbing love for Cheetahmen II, he is dearly regarded in the video game music community. In the past he was host of his own radio show, VG Frequency, but after a long hiatus, has now returned to the broadcasting seat with Nitro Game Injection. He is also focused on his blog and is a big proponent of the Twitter phenomenon.
Enn "SLiDER-chan" Carbohydrate - Former Co-Host

Suraida is an artist who draws pretty pictures, usually of Mega Man-inspired original characters, and is a big fan of the Mega Man, the Sonic, the Mario and the Pokeymans. In what may be the quickest case of Ascended Fangirlism ever, she was a regular listener of NGI for only a few months before Larry made the suggestion that she be a guest co-host. She agreed, and due to demand from the fans, has become a part-time co-host of the show. Kyle & Larry regularly give her sketch art challenges during the show, which you can check out here.